Rock on the River 2023
Tickets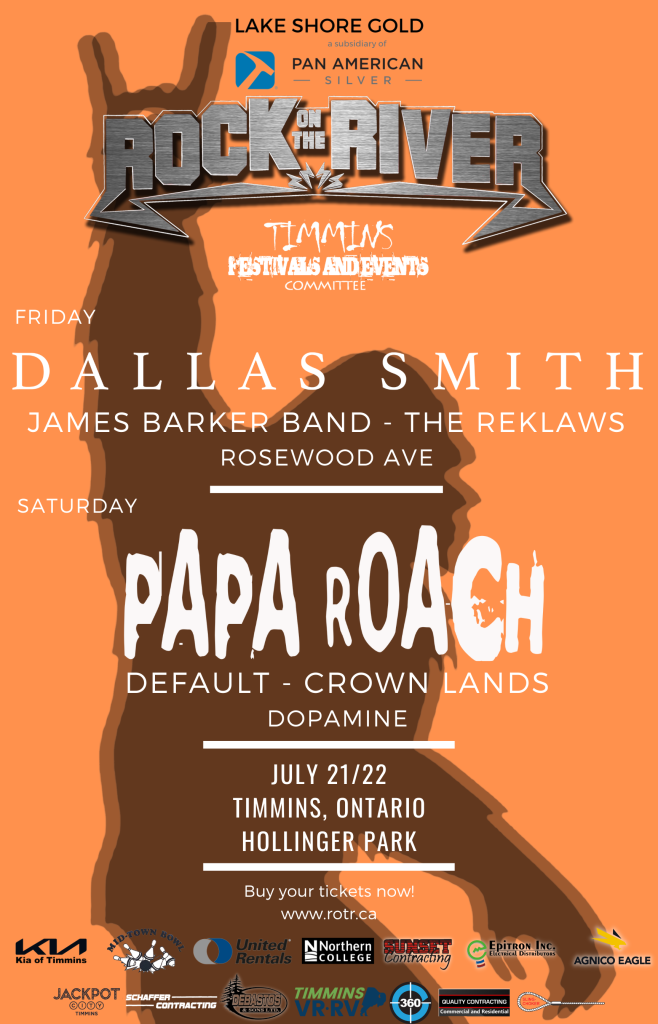 Frequently Asked Questions
When is Rock on the River (ROTR)?
ROTR will take place JULY 21,22 – 2023
Gates will open Friday at 5:00 pm and Saturday at 5:00 pm
We shut it down at approximately 1:30am.
Clean up starts bright and early on Sunday (or whatever time we get up) The more the merrier!
Is this an all ages event?
Yes! (with the exception of the VIP area, which is age of majority – 19+).
*You will need government-issued photo ID to purchase alcohol or gain entry to VIP area. PLEASE BRING YOUR ID! WE WILL BE CHECKING, RE-CHECKING AND CHECKING SOME MORE!
*Masks are optional
Are Chairs allowed at ROTR?
Personal lawn chairs are not allowed due to limited space, however, there is plenty of seating available on site in the bleachers, beer tents, accessibility platform and picnic tables throughout the festival.
How can I get to ROTR?
ROTR will be held at the Hollinger park, 565 Algonquin Blvd E, Timmins, ON P4N 1B7. It is located in the heart of Timmins where there is a playground, waterpark, baseball field, an area for walking, picnicking, relaxing and ROCKIN' OUT!
Where do I park?
There is Municipal parking a few blocks from the Hollinger, the parking lot across the street (Food Basics, Park Road Square) are private parking. Please car pool or take advantage of the fall weather and walk!
*No parking is available directly at the venue, no exceptions.
What's a TFEC?
Timmins Festivals and Events Committee (TFEC) is a non-profit organization, made up of 8 totally awesome, super tired people who wanted to make Timmins a better place by planning fun things for Timmins folks to do. We aim to consistently bringing quality, big name musical entertainment to Timmins in the form of Rock on the River, and hold various fundraisers throughout the year to make that happen.
For more information about who we are and what we do, click http://www.timminsfestivals.com/about-us/
Who are the SUPER AWESOME sponsors that step up to make this happen?
We're so glad you asked! Click SPONSORS for a list of all of the great partners who support TFEC and make our events so amazing.
Cashless Bar
In an effort to streamline the bar process, and for added safety of our volunteers, we are going cashless for Bar Tokens.  Cash can still be used throughout the festival (food vendors, merch, 50/50, etc), but the bar will require electronic payment (debit/credit/prepaid cards).  The same process that you're used to will apply
1) Purchase drink tokens from our staff
2) redeem drink tokens at any of the bars for your drink of choice.