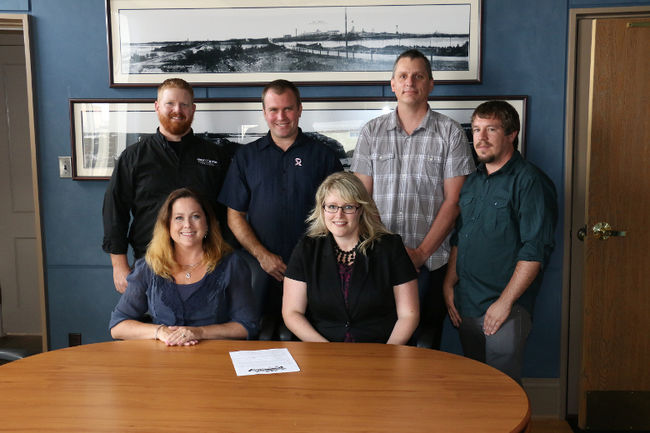 EFFORT TO DRAW BIG NAME ACTS TURNS TO COMMUNITY
TIMMINS – For everyone in Timmins who has complained about not enough big name entertainment performers coming to town, now is the time to stand up and be counted.
That's the feeling of the new Timmins Festivals and Events Committee (TFEC) which this week announced it is holding a fundraising event in October which will be directed at attracting some big name entertainment at a summer music event in the future.
Members of the newly-formed committee held a news conference at city hall Thursday to announce the group now has official non-profit status and will be working to organize future entertainment events.
The group, comprised of avid live-music fans, was born out of the discussions that erupted last winter in Timmins when it was revealed that one of Canada's most popular recordings artists The Tragically Hip was booked for a two-night gig in Kirkland, a mining town south of Timmins with a population of about 12,000.
People wondered how it was that Kirkland Lake was able to attract so many top name entertainment acts.
It turns out that community partnerships, corporate sponsorships and the fact that Kirkland Lakers actually buy tickets ahead of time are key ingredients, according to members of the events committee in that community, who spoke to The Daily Press last February, one day after The Hip concert was announced.
"I'd like to see us hosting two events a year, possibly one in the wintertime and then a bigger one in the summertime, and trying to bring in big, relevant acts to Timmins," said committee chairman John Olaveson.
"These events will also give local talent the opportunity to display their skills while they play alongside larger acts," Olaveson explained.
"You know we see a lot of other communities around our area doing stuff like this," Olaveson added. "We've formed a really good group here so I'm excited about that," he said at the news conference held at the mayor's office. The committee provided some details about the event called Rocktoberfest, to be held on Saturday, Oct. 17, 2015 at The Mac. It will be a night of music, music trivia, band costumes, local performers and a silent auction.
"The mayor and the City of Timmins are the first sponsors for Rocktoberfest," said Olaveson, revealing the city has agreed to waive the cost of using the McIntyre Ballroom for one night to help the group get started.
"We are trying to build partnerships with other groups. The Rotary has been helpful, Tourism Timmins, the City of Timmins, the YMCA — they've all been helpful," he said.
Olaveson agreed a good example of community partnerships was demonstrated earlier this year when some 20 local businesses joined together to finance the Canada Day fireworks show in Timmins, which many city residents proclaimed as the best show they had seen in many years.
He said Kirkland Lake has also shown how effective such partnerships can be.
"I understand the Kirkland Lake festival committee gets, I believe, 40 to 80 sponsors to help out with the costs of bringing in the big name acts, so that is definitely something we are going to have to look at and solicit. It's going to be a big struggle for us to get sponsors on board."
"We will be looking to local businesses to help us," said committee member Jeremy Wilson. "Being a non-profit, our whole mandate is to improve the quality of life in Timmins. It's all about keeping our working class here, keeping people happy."
He said the committee not only wants to be able to bring good concerts to Timmins, but also to make those concerts affordable.
"I don't want to see $200 tickets and only 200 people who can afford it," he explained.
The committee also agreed that they will have to work on convincing more people of the importance of buying advance tickets, when concerts are being organized.
Wilson said the committee is hoping the concerts will eventually be popular enough that people who don't buy tickets right away will be in danger of missing out.
Also speaking at the news conference was Mayor Steve Black who voiced his support.
"It is great to have this committee in place. Various people throughout the community have been vocal at different times that Timmins doesn't always get the music or the festivals that people would like to see," said the mayor.
Black said he is pleased to see that the local committee of volunteers has "picked up the ball and is running with it" because he said it is not the municipality's role to act as a music promoter.
Black said he agrees with the committee that is it up to city residents to get out and show support for the fundraiser and other committee events.
Black said he and the city played a minor support role with the new committee in terms of approving the use of the ballroom at The Mac for one night.
"It comes out of the Grants To Organizations fund. It was a fairly small fee for the rental for the evening. It can be approved by my office as it is under the limit council set for the most recent policy, so I was happy to approve it," said the mayor.
He said he believes the organization has the city's best interest in mind and the ballroom would otherwise be sitting empty. Also supporting the group is committee member Marnie Lapierre, who works for Tourism Timmins.
"My role here is to support the committee and their endeavours in bringing in some great acts," said Lapierre. She added that the committee will also be actively supporting local musical acts, many of which performed in the Summer Concert Series.
Lapierre also remarked on community sponsorships concept, adding that the Great Canadian Kayak Challenge and Festival has succeeded in attracting more than 90 sponsors.
"That just shows that the community is ready for something like this," she said, adding that Tourism Timmins is confident the festivals and events committee will eventually sponsor enough well-known music concerts, that it will also entice more visitors to the city to see the performances.
"This is great on so many levels for the city," she said. "I am so glad this is happening."